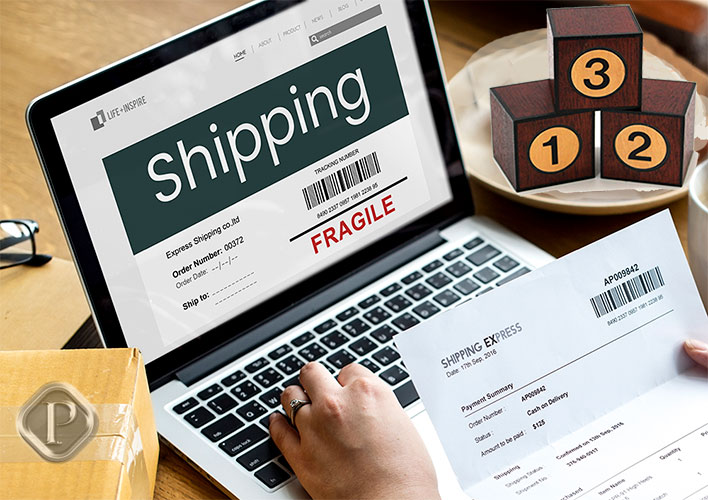 How you package your products for shipment affects your bottom line and customer retention.
As a magic dealer you sometimes ship oddly shaped and over-sized products and hope they arrive safely. Even if you make it clear that you are not responsible for damage after the product has left your business, the customer still holds you responsible. To a certain degree you are responsible if you don't package your products properly.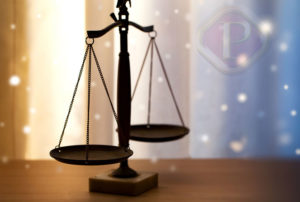 Packing supplies cost money but skimping on packing materials will cost you more:
shipping costs to return the product
time spent dealing with the customer and resolving the issue
damaged products that sometimes can't be fixed or resold
packaging materials for the original product and possibly a replacement
potential loss of the customer to a competitor
Originally this post began with a question:
Have you ever received an online order that was so poorly packaged the contents were damaged?
I realized the answer would be a resounding YES. Who hasn't?
With the COVID-19 pandemic upon us, almost everything is purchased online and delivered using USPS, UPS, Fed-EX, etc.  As more boxes are jammed into delivery trucks and crunched on conveyor belts, packaging needs to be stronger than ever.
During the pandemic lock-down only essential services were allowed to continue. My local gym, which is critical to my sanity, closed.  I tried to work out from home using 2 gallon water bottles.  At-home exercise equipment was sold out everywhere! I think my hubby either saw that I was getting a bit snarly, or he feared for his life (he's a very smart man), but he managed to source some kettle bells and dumbbells and ordered them pronto.
I eagerly awaited my pair of 35 pound kettle bells and 20 pound dumbbells. I wondered how these heavy things would be packaged, expecting the kettle bells to be shipped in wood crates and be the most vulnerable to damage during the journey.
I was SO WRONG.
The 35 pound kettle bells arrived PERFECTLY IN TWO CARDBOARD BOXES.
The 20 pound dumbbells barely arrived and had to be hand delivered to our door in a USPS basket because the cardboard box was destroyed.  All corners were ripped to shreds and could no longer contain the contents.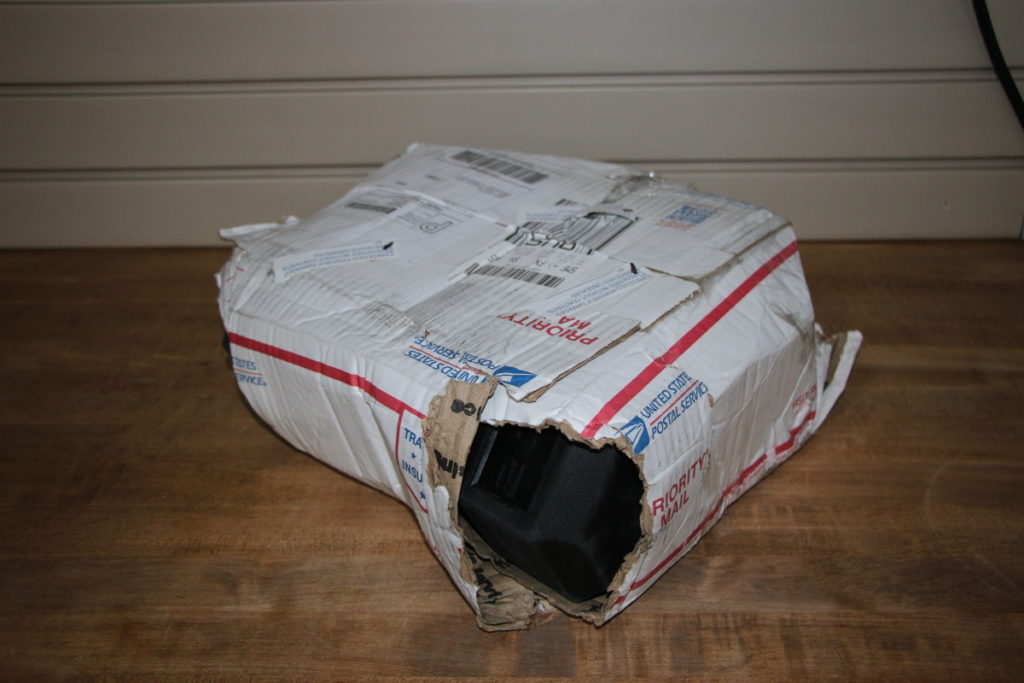 So to review, the 35 pound kettle bells, which were packaged properly in cardboard boxes, arrived without issue, while the 20 pound dumbbells barely made it to our door. (You will hear more about the kettle bells so read on.)
Your Package's Experience
We would love to see smiling people carefully handling boxes, and paying attention to labels such as "fragile."
Fragile?
Nobody is reading those labels except maybe the final delivery person who is having a bad day and sees an opportunity to pay it back with a good swift kick.
Have you seen the movie Ace Ventura?
If you want your magic effects to arrive undamaged picture your package going through the Ace Ventura test.  If it passes you are golden!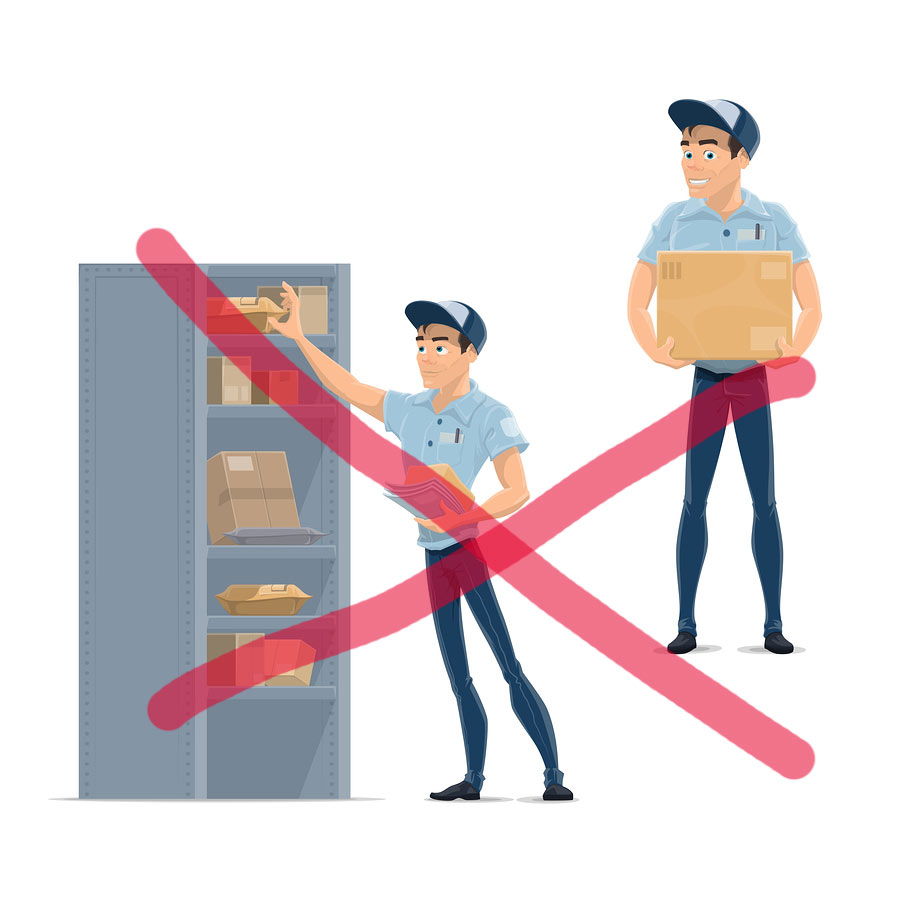 Most packages are only touched by 2 pairs of hands: the drop-off and the final delivery.
UPS store employees know this.  To test if they have properly packed an item employees are instructed to stand on the box.  "If it holds your weight, you packed it properly."
The journey begins.
After being picked up by a service (UPS, USPS, FedEx, etc.) your package is shoved into a truck filled with boxes. Then unloaded and tossed on conveyor belts jammed with boxes.
Your package arrives at the central hub where approximately 2 million packages are processed per day during peak season. During this COVID-19 pandemic, every day is peak season.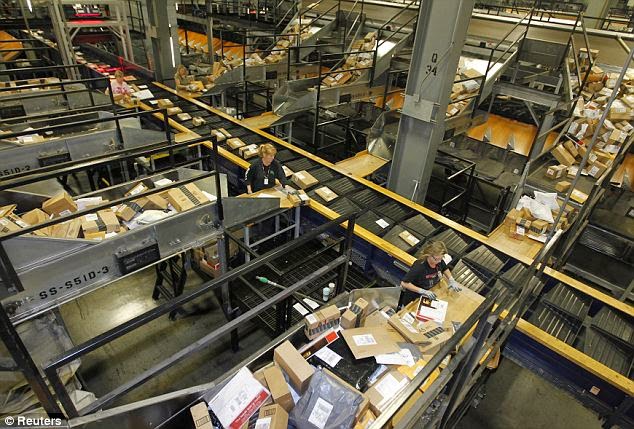 Containers (picture a storage pod or small u-haul truck) with your package are unloaded from the plane and delivered to the sorting center where they are scanned by machines.
They will then travel miles on automated conveyor belts that direct them to the appropriate area. There are 7 primary conveyor belts where all the parcels travel and are directed through over 350 intersections that reroute packages accordingly.
All this time your package is bumping and banging against metal walls and other boxes, like millions of cardboard bumper cars vying for position.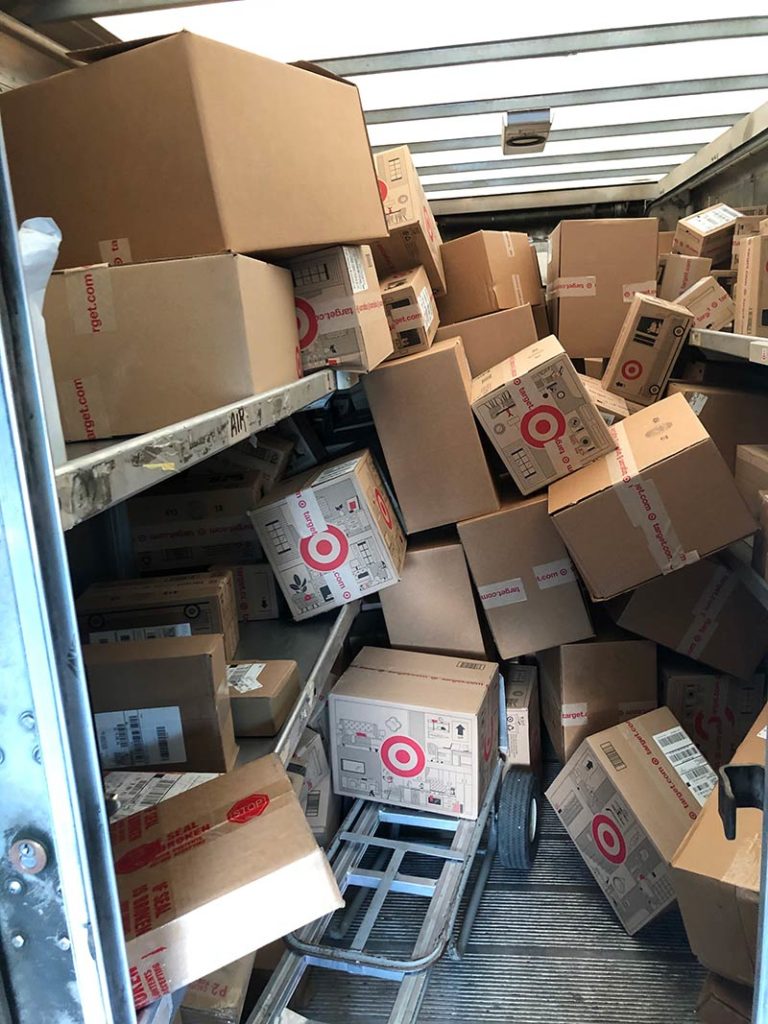 Next your package is dropped from the conveyor belt into a bag 30 feet below, landing on a mound of boxes with more boxes piling on top.
Once sorted the boxes are stacked onto a truck for delivery.  While there may be sorting at the hub, it doesn't last long.
While I used UPS as an example, (and these guys do a great job) you get the idea that packages are not delivered by your friendly pony express guy anymore.
We are in a world of increasing automation so pretend your delicate magic package never sees a human.
The Kettle Bell Experiment
We've discussed the package journey so you know you need to package the product safely, but do not cut corners on packaging materials.
If it has crossed your mind to turn a USPS box inside out to save money,  DON'T.  You are inviting damage.
Here is the exact wording from USPS:
Recycling and re-using packaging is good for the environment, but it has to be done correctly to be sent through the mail. Don't reuse mailing boxes; they can weaken in the shipping process.
In fact USPS goes on to say that misuse may be a violation of federal law.
I'm not a lawyer so I'm not going to speak to the law argument, but I did conduct an experiment to prove that re-using packaging does compromise the safety of your magic effect.
I have seen magic tricks shipped in USPS priority mail boxes turned inside-out and wanted to test the integrity of an inside-out box.
In come the Kettle Bells.
Two new USPS Priority Mail boxes were used in this experiment.
One box was taped and secured inside-out, while the other was taped and secured the correct way.  Both boxes used the same amount of the same shipping tape, taped in the same way.
Because I didn't include packing materials, putting a 35 pound Kettle Bell on the top would only be testing the tape holding together an empty box.
So I set each box on it's side, allowing the heavy Kettle Bell to be placed on the side of the box: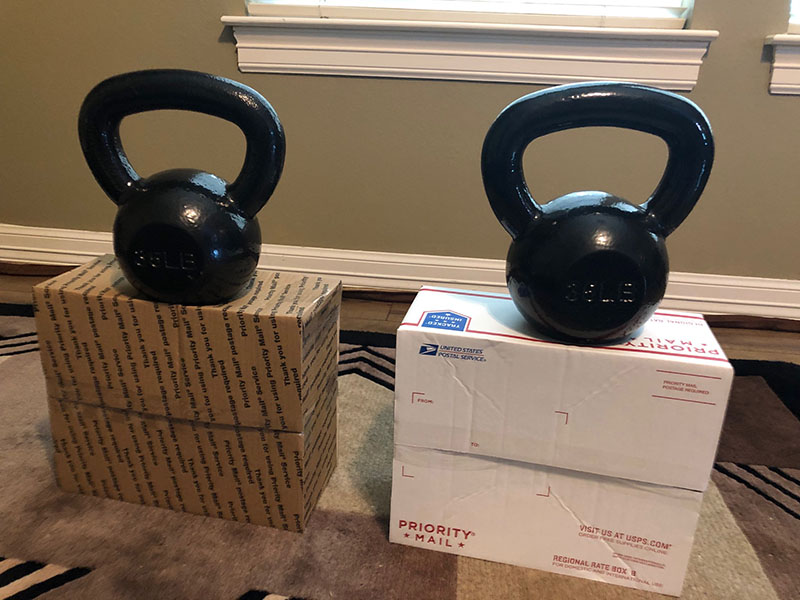 I had my video camera rolling because, as I carefully placed the Kettle Bell on each box, the inside-out box groaned under pressure. I saw the inside-out box give way and thought it would collapse immediately.  To my surprise it held, despite its crunching sounds.
But I could already see the strain. You can see the immediate indentation in the photo above.
Fast forward 8 hours later and the weight strain was obvious.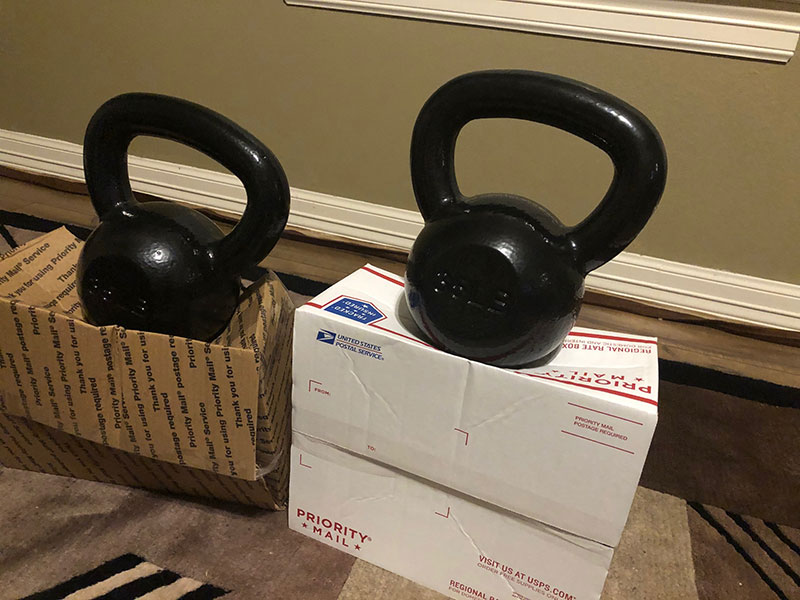 By the next evening (approximately 30 hours later) the box collapsed and the Kettle Bell fell to the floor with a loud thump.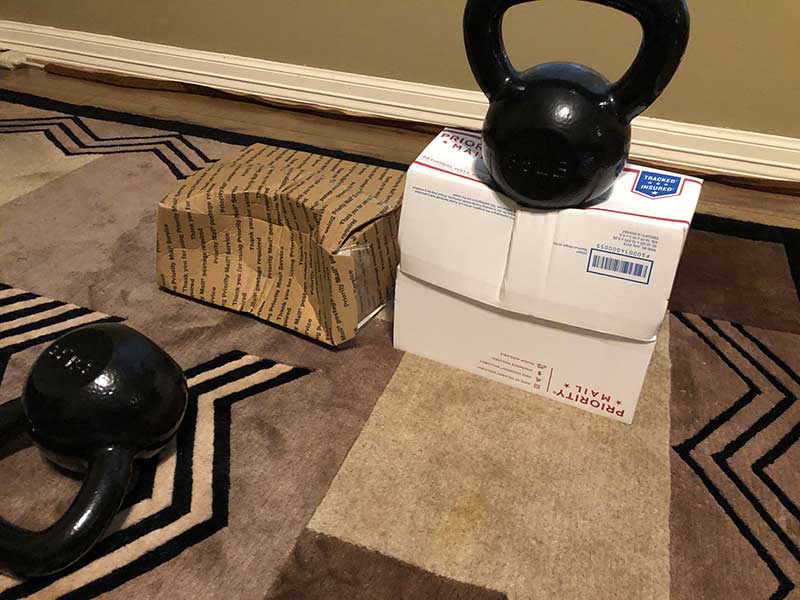 The final view of the boxes demonstrates why reusing a box in an inappropriate way will not save you money.  Here are the boxes as they would arrive.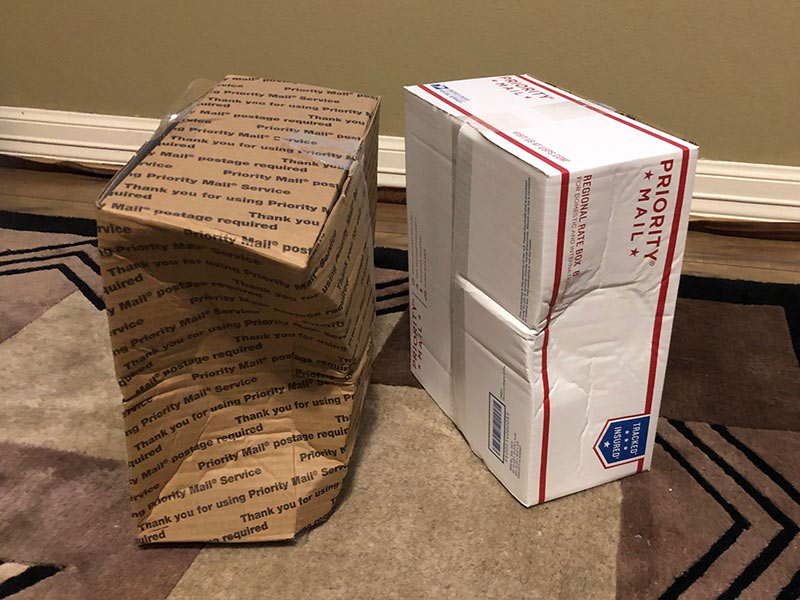 Conclusion:  Imagine the MOUNTAIN of heavy boxes that are thrown on top of your delicate magic trick.  The shipping box needs to protect the item inside and if you did not package it properly you are responsible.
Tips For Safe Package Delivery
Package Properly
Use a rigid undamaged box. Be careful about reusing boxes as they lose structural integrity over time.
Wrap ALL items individually. If a magic effect includes a custom box with items stored inside, unless those items stay secure when you shake the box, each item needs to be secured with packing materials.
Leave no empty space, but don't overstuff.  Add at least 2 iches of cushioning around the item so if you shake the box there is no movement. That may mean using a box within a box, as my kettle bells demonstrated.
Use shipping tape that is at least 2 inches wide; not regular tape.
Do not use string or paper over-wrap
Include clear Return Info on the package BUT make the return address smaller than the recipient's address. Ensure the recipient's address is complete, large and clear.
Include a duplicate address label inside the package in case the outside label gets damaged.
If you have an account, USPS, FedEx and UPS all offer free shipping supplies (each varies in the types of boxes they offer). You just need an account and valid shipping address.
If your package is relatively light compared to it's physical volume then dimension weights come into play and can affect your shipping costs. This happens a lot in the magic world so pay attention.
Here are some Dim-Weights to guide your shipping choices:
Fed-Ex Dimensional Weight Calculator:
http://www.fedex.com/in/tools/dimweight.html
USPS 2020 Dimensionsal Weight Calculator ( Note: In June 2019 USPS began asessing dimensional weight on packages going to any zone 1-9 rather than only zones 5 – 9) 
https://www.pitneybowes.com/us/postal-information/dim.html
UPS Dimensional Weight Calculator:
https://www.ups.com/re/en/help-center/packaging-and-supplies/determine-billable-weight.page
The Biggest Packaging Mistakes Magic Dealers Make
Reusing boxes that are no longer structurally sound.
Not securing individual pieces within the magic trick.
Not performing the Shake Test – This is the biggest offender.
Build customer loyalty by perfecting that unique balance between fast, economical shipping and safe secure shipping.  It's not easy but when you find the balance your customers will stick with you.
WE HAVE THE EXPERIENCE
FREE 15 MINUTE PHONE CONSULTATION
In 1 conversation you will learn 3 ways to improve your magic business.