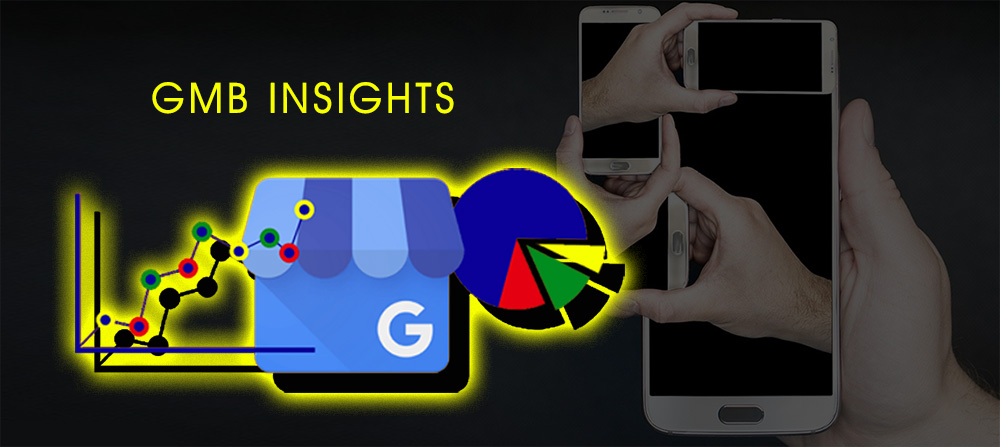 I recentaly heard that in Q1 of 2022  Google is once again changing the name of this service which has morphed through many names including Google Places, Google My Business (hence the title) and now the most recent renaming is…  Google Business Profile.
Google Business Profile serves as an online directory that allows you to keep your listing information up-to-date and consistent across the web.
Unlike the print yellow pages of yesteryear, GBP offers insights into the effectiveness of your GBP listing and provides unique data that you can't get from other platforms such as Google Analytics, or your own website.
But analyzing the right metrics is key to making better marketing decisions for your website and your GBP listing.
How to Analyze Data in GBP
Log into your GBP account and click on the Insights tab to display the different metrics being tracked.
Most businesses are seasonal so look at data year-over-year or quarter-over-quarter to account for seasonal differences. Currently, the Insights tab only provides search periods by week,  month and quarter. In order to compare year-over-year, you will need to use a spreadsheet or some method to track historical data.
Review these four sections which provide meaningful data you can act on.  Look for trends over time. Are the metrics staying the same, going up or going down?
 
How Customers Search For Your Business
Queries Used to Find Your Business
Where Customers View Your Business on Google
Customer Actions
How Customers Search For Your Business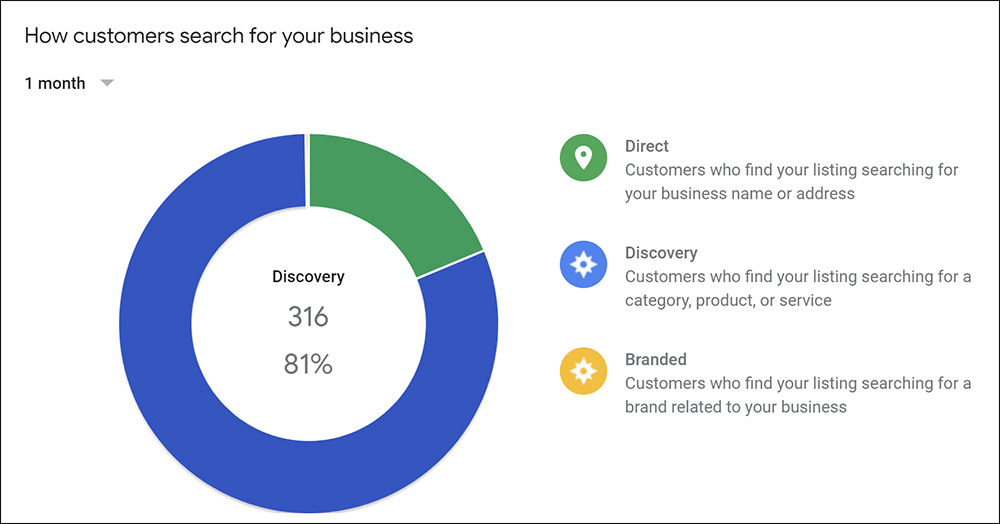 Customer search is divided into three sections and hovering over any section will give you the number of searches and the percentage of total search volume it represents.
HOW TO USE:

Direct Search: These are searches by people who already know about your business and want to know where you're located, operating hours, etc. They are searching for your business name.
Discovery Search: This metric is very important because it represents people who are searching for your business services or products such as "magic shops near me" or "local kid's magicians." These searches are by people who don't know you yet – potential customers.
Branded Search: Similar to direct search, branded search represents customers who find your listing while searching for a brand related to your business. For example, a customer might find your magic shop while searching for Joe's Magic Shop. This metric gives you a bit more information about how customers are finding your business.
Queries Used to Find Your Business
Queries are a great metric to glimpse into searcher's minds and discover how they're finding your business. The Queries section displays search terms people are typing into Google and the number of users that searched for each term.
HOW TO USE:
Knowing the language people are using helps you refine your GMB listing and your website content. Make sure the verbiage on your website and GMB match the terms searchers are using. For instance, if most searches are requesting "magician for kid birthday party" then those are the terms you should be using as well.
The search terms also give you ideas for advertising words with Adwords.
Queries provide ideas for content on your website since the queries show topics users are interested in. Do you have pages that address the specific search queries used to find your business? For instance, if one of your search queries is "how to hire a corporate magician," writing content around that topic will bolster your local SEO.
Are people searching more for one type of service over others? This is an opportunity to add content focused on the more popular search topic.
Where Customers View Your Business on Google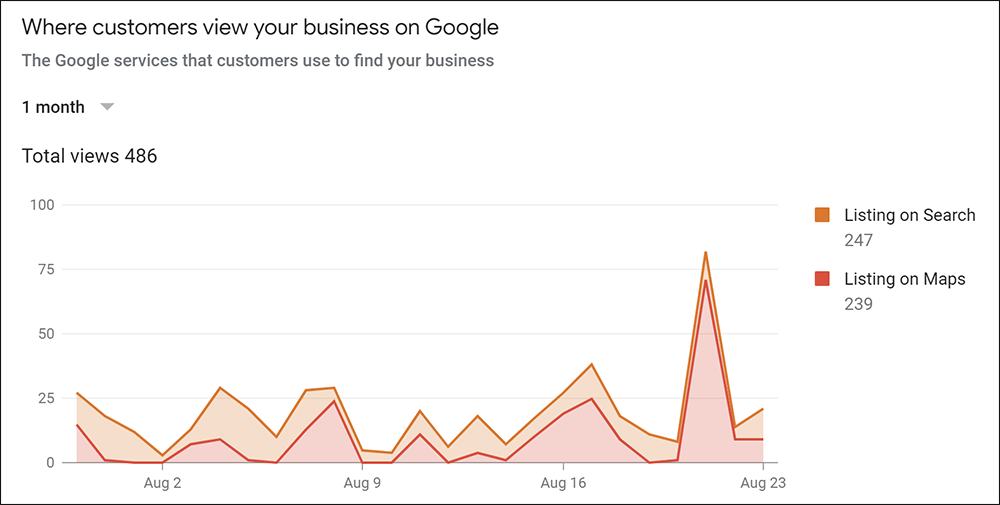 This graph shows how many searchers viewed your listing on maps and how many viewed your listing on Google Search.
If the searcher looks at both Google Maps and Google Search (starts at google search and clicks on the map) it is counted as two views in the Total Views number.
HOW TO USE:

Views on Maps indicates the customer saw your listing via Google Maps.
Views on Search show customers who found your business through Google Search.
You can hover your cursor over(or tap on a mobile device)  the day to see the number of customers viewing on that day.
The views reported don't necesarily mean that someone clicked on your listing.
Track these metrics over time to see how your GMB listing is performing. If views are decreasing over time you need to ramp up your GMB account with more posts, reviews and images.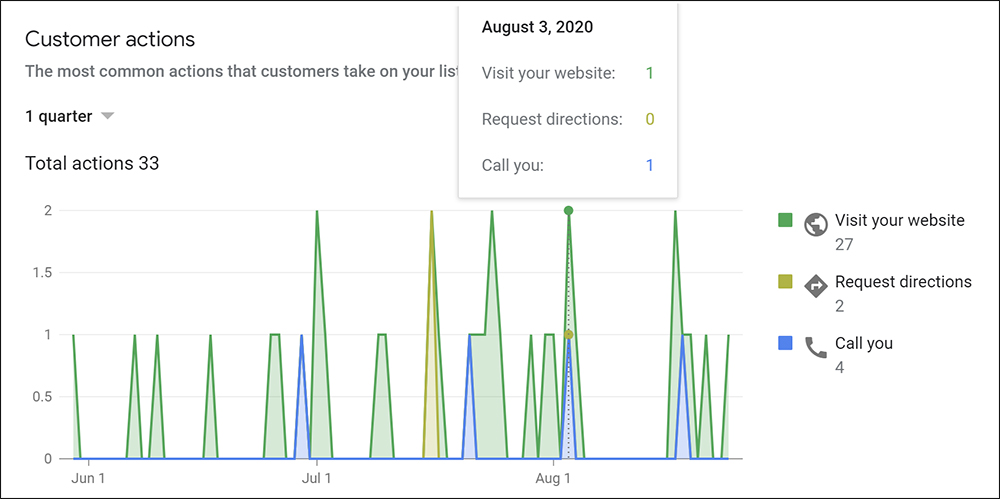 The Customer Actions section shows what visitors are doing after viewing your GBP listing which can translate into conversions or no action at all. Your goal is to get visitors to either come to your website or call your business or visit in person (if you have a physical location).
Customer Actions provides data on:
how many people clicked through to your website
how many people requested directions to your location
how many people called your business directly from GMB ( on a mobile device)
HOW TO USE:

Click-throughs to your magic website demonstrate that your GBP listing is serving up the right information.
Hover over a day to see the number of actions taken in that time period.
When you see an uptick in any customer actions determine if it is event-related or represents natural growth. An event-based uptick can indicate that your event is an effective means to drive website traffic. What made the event draw attention and can that success be replicated in the future?
Before you conclude that an event is successful, first check to see if the increased traffic from GBP resulted in a similar increase in conversions on your website. You want to drive the right traffic to your website.
Direction Requests show where customers and potential customers are coming from. How many people are searching for directions to your business each month?  If most of your requests are from a certain area focus your advertising spend and marketing in that region.
Phone Calls give you insight into the days of the week and times of the day your GBP is generating the most calls. What percentage of your overall calls does this represent? If GBP is providing most of your call activity, then look at ways to strengthen your GBP and increase call volume.
Your Next Steps
It doesn't matter if you have a physical location or not.  You WILL  benefit from having a Google Business Profile account.  And if I haven't convinced you, think about the growth of Google over time.
Google started off as a simple search engine that provided search results competing against the big names Yahoo, Alta Vista, AOL, etc.  In 2002, MSN was the number one Search Engine with 37% of the visitors; Google was third (after Yahoo)  with 29%! (Back then data was based on the number of visitors, not searches.)
Google has exploded since then and now dominates the majority of the global search market (75% of the searches in the U.S. and 95% in India).  Whether you like it or not, Google is calling the shots on what gets attention on the web.
Google Business Profile is free and so use it to grow your online presence.