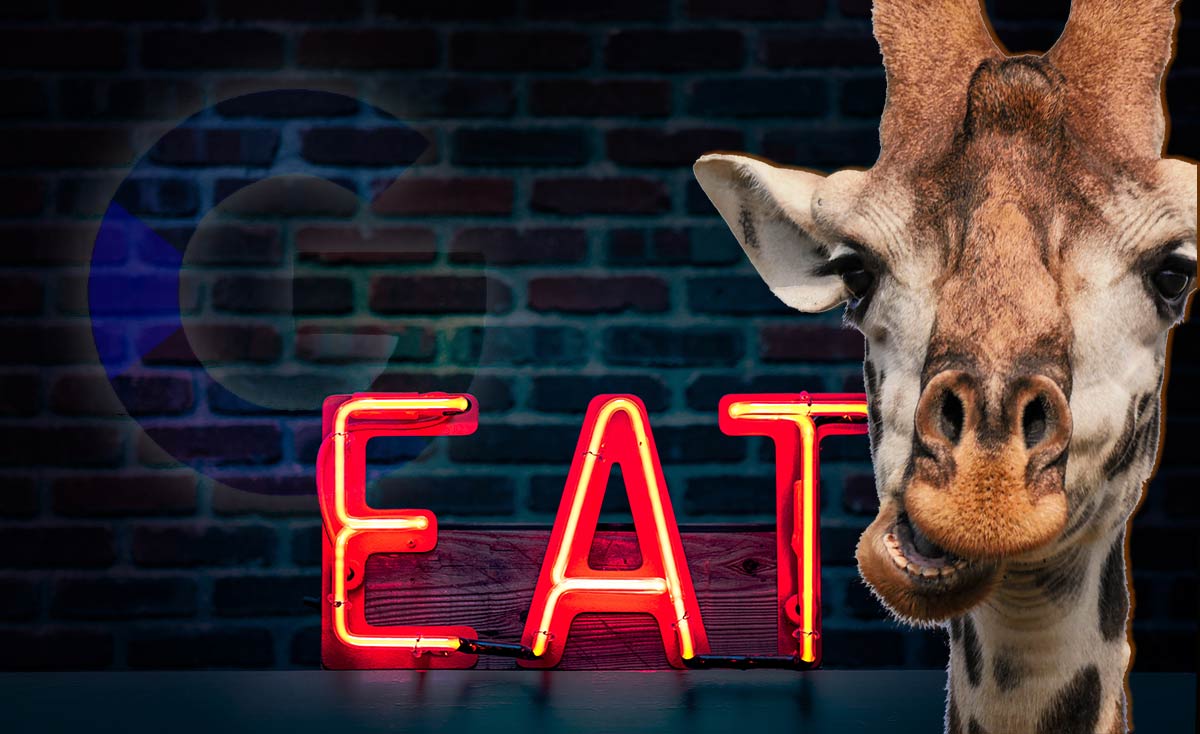 The first time I heard the term E-A-T and Google in the same sentence I thought Google was finally talking my language.  Turns out E-A-T has nothing to do with food and everything to do with how Google evaluates the quality of your website.  Obviously, Google will rank "higher quality" websites over low quality in the search engine results.  Google does not disclose specifics about its search algorithms but a lesser known secret has shed light on what Google is looking for.
In  2014 Google's confidential document, Quality Raters' Guidelines (QRG), was leaked and the world finally got a peak into some of the factors Google uses to rank websites.  The QRG is still not widely known but Google has opened it up saying "We are publishing the Quality Raters' Guidelines so that webmasters can know what it is that Google looks for as quality in a website."  That's proof enough for me that the QRG is important to SEO.
How does Google use the QRG? Google contracts out 10,000 or more "quality raters" whose job is to follow the Guidelines and rate websites.  The Raters' feedback, I presume, is used to help Google engineers fine-tune its search engine algorithms.  While these raters are not able to directly affect your website ranking in the search results, their input helps Google define "quality" and that results in algorithm changes that may affect your website in the future.
After having read the complete 166-page document, I have summarized what I consider to be the most salient and actionable factors applicable to you the magic dealer or magician.
Purpose
E-A-T score
Main content quality and amount
Content creator information and reputation
1. The Purpose of the Page
Each page on your website needs a clear purpose.  If the purpose is not clear then the website will receive the lowest rating.  This is the first step in the QRG before the rater even begins to assess other factors.
Each page needs to solve a problem, offer information or benefit the reader in some way.
If a page has no clear purpose, it is assigned the lowest possible rating and no further assessment is taken.
If the web page has an understandable purpose, the rater then moves forward to determine the E-A-T score and reputation.  
A magic store will likely have the following types of pages:
About, Shipping and Returns: purpose, to share information, to inform
Contact page: to allow users to post a question or comment
Product pages: to sell products or services and inform users about the products
As you can see, it is most likely every page of your website does have a purpose.
If you own an online magic store or have a magician site, make sure each page has a clear purpose.   Ask yourself, what will the reader gain from reading the page or visiting your website.  How do you solve their problems?   If the answer is unclear, identify what needs to be changed such that the purpose is clear.
2.  E-A-T and What It Means
E-A-T stands for Expertise, Authoritativeness and Trustworthiness.
Google uses E-A-T to help determine the quality of your website. 
Since E-A-T is referenced frequently throughout the Google Raters Guidelines, it tells me E-A-T is important stuff.  Each component of E-A-T is evaluated along with other factors to arrive at a "Quality Label" running from Lowest to Highest on a sliding scale. 

If you have an online store, your website is categorized as YMYL  (Your Money, Your Life) because you are taking customers' money.  As such your website will be held to a higher quality standard.  As Google states:  "We have very high Page Quality rating standards for YMYL pages because low-quality YMYL pages could potentially negatively impact users' happiness, health, financial stability, or safety."
Magic Dealers and Magicians:  Raters are instructed to review both the website and the author of the content, so once the content of your website has been defined as high quality then the rater reviews the creator of the content.   Both elements need to meet high-quality E-A-T standards in order for your overall website to be judged as high-quality.
EXPERTISE:  Google is looking for signs that you, the website owner, are an expert in your field.  When you add content to the website, unless otherwise identified,  you will be considered the main creator of the content  (author).  The more expertise you demonstrate, the higher your potential quality rating.  
Magic Dealers and Magicians:  If you produce your own line of products, you become experts on that line.  Other examples of expertise are the credentials behind your name.  Have you won awards or magic contests?  Do you write for magazines?  What recognizable credentials do you have?  Be sure to mention any proof of your expertise in your About page or author bio.  Remember that if you are selling products online, your online store falls into the YMYL category and is held to a higher page quality rating standard.
AUTHORITATIVENESS:  The online world has to recognize you as an authority in your line of Magic.  Google examines how your website and the creator of your website's main content is rated by external sources such as Yelp reviews, the Better Business Bureau and Google reviews.  A site is considered authoritative if it has a number of incoming links from other related authoritative/expert sites.   Have you been cited in any Magic magazines or on other magic websites? The more quality citations you, the author, or your website, has the higher your authority rating.
Magic Dealers and Magicians:  Publish posts and articles with your real name.  Produce content that goes in depth in your field of expertise.  Try to build links from authoritative sites by fostering relationships with leaders in the magic industry.  Have you been cited in Magic magazines or on other quality magic websites?  Have you created tricks or performed for important people at a special event?  These are all ways to demonstrate your authority in the magic space.  
TRUST:  Your website needs to create a sense of trust by displaying validation information such as an About Us Page.  If you own a store then you need to show clear information about shipping, payment policies and returns.  All websites need to include a Contact page so that users can contact you to get help when a problem occurs.
Magic Dealers and Magicians:  Use the About page to establish your credentials, expertise and experience.  Testimonials on your website add a level of trust, however, Google looks for external testimonials and reviews as well.  If you have an online magic store, clearly state your return policy, terms and conditions, shipping policies and payment methods.  Performers need to stipulate cancellation policies, refunds and conditions of performance on their website.
3.  Reputation
Google grades your site based on reputation which is really an extension of E-A-T but puts more emphasis on external validation such as reviews.  As Google states in the QRG:  "A website's reputation is based on the experience of real users, as well as the opinion of people who are experts in the topic of the website."
You can search for your website reputation in Google.  Since Google is looking for reviews not written or created by the website itself, you can search for just external sources by using advanced search techniques.
In the Google search bar use the following string to display reviews external to the website:
[the-website-name reviews -site:domainnamehere.com]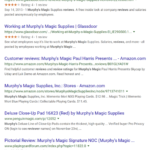 For example, to search Murphy's Magic reviews not including reviews posted on the website you would type the following:
[murphy's magic reviews -site:murphysmagic.com]
On the right you can see a screen shot of the search results, which is a listing of all of the reviews about Murphy's Magic that have been posted on other websites.
Here are examples included in the QRG:
● [ibm -site:ibm.com]: A search for IBM that excludes pages on ibm.com.
● ["ibm.com" -site:ibm.com]: A search for "ibm.com" that excludes pages on ibm.com.
● [ibm reviews -site:ibm.com] A search for reviews of IBM that excludes pages on ibm.com.
● ["ibm.com" reviews -site:ibm.com]: A search for reviews of "ibm.com" that excludes pages on ibm.com.
● For content creators, try searching for their name or alias
Magic Dealers and Magicians:  Monitor your external reputation and take active steps to keep it positive.  Build a strong positive reputation by always treating your customers fairly.  In addition, your website needs to provide a great user experience with clear navigation and fast page load speed.
4.  Content Quality and Amount
Every page of your website needs to have relevant content that serves its purpose.  High-quality pages display all the components of E-A-T and display the following characteristics:
all pages need a descriptive or helpful title
provide enough content to serve the purpose of the page
include complete information about who is responsible for the page and customer service
information pages should be factually accurate, clearly written and comprehensive
write blog posts that are current and relevant to your audience and within your field of expertise
shopping pages should allow customers to easily find and purchase the products they want
your entire website should be secure (https://)
keep distractions such as popups and ads to a minimum
Don't copy!  The Lowest Page Quality rating is assigned if all or almost all of the page content is copied with little or no time, effort, expertise, manual curation, or added value for users. According to the QRG:  "Such pages should be rated Lowest, even if the page assigns credit for the content to another source."
Magic Dealers and Magicians:  Be sure to have contact information including your policies on payment, returns, refunds and shipping.  Add fully descriptive product pages with no spelling or grammatical errors.  Copied content can result in a low quality rating so if possible, add your own product descriptions.  Take the time to make your content unique.
Summary
After researching and reading through the QRG many times, it becomes clear that while Google is trying to provide detailed guidelines for raters to follow, it is applied case-by-case.  Recent updates to the Guidelines appears to place a greater emphasis on the author of the content.  Hence E-A-T is applied to both the website in general and also to the creator of the main content.
The guidelines are meant to give Google a way to test its algorithms and make adjustments when needed.  Since Google is telling us what it looks for in a high-quality website, it just makes sense to use the information to your advantage.
Here are some of the key takeaways.
Improve your search engine rankings by creating quality content. This is a great way to not only appear to have high E-A-T scores but to legitimately have it.
Create biographical and contact info that is verifiable and consistent across all websites and social media profiles.
Ensure that your bio information is on the About page and on the Home page if possible.
Get people in the magic or entertainment industry to talk about you
Seek positive press and trusted mentions on authoritative sites, events, contests, etc.
Remove distractions from pages such as too many popups or ads
Bragging is good but don't exaggerate or mislead – provide accurate information
Be sure your website is SSL encrypted
Remove or fix pages with thin content
While we don't know exactly how Google's algorithms work, it is very clear that great content from trusted authors is the best way to build traffic to your magic website.