How to Easily Write an Email That Drives Revenue for Your Magic Business
Emails are the most effective marketing tool for magic dealers and magicians. Email marketing increases sales for magic dealers and magicians.  In terms of ROI emails earn an impressive $40 for every $1 spent. If you aren't making the most of your email list you're leaving money on the floor.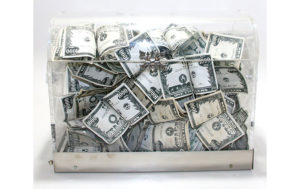 To get the most bang for your buck you need to send engaging emails to a quality list.
What exactly does this mean?
Quality Email List
A quality email list is an list of readers who have (opted-in) chosen to receive your emails.  As such these readers are more receptive to your messages and more likely to make a purchase or subscribe.  Don't send emails to everybody who contacts you or purchases from you.  Not only is this considered spamming, and violates privacy laws, but it will negatively impact your emails' ability to get through spam filters if people flag your email as spam.
You will drive more sales from a smaller list of subscribers who are interested in your communications than a large list of subscribers who never bother to open your emails.
Engaging Emails
I have seen a direct uptick in sales when a magic dealer sends an engaging email  to customers. If you don't take the time to compose a quality email not only will your email never be read, or opened, it may be flagged as Spam. When an email is flagged as Spam your email provider could be blacklisted, which could seriously impact future emails from making it into your audience's inbox.
Ten tips to turn your emails into sales machines.
Compose a killer subject line.
The subject line should never be just an afterthought to your email. Take the time to craft a clear, attention-grabbing subject line that will increase email opens.
Over 280 billion emails are sent per day! The objective is to get your email opened and if your subject line is boring or doesn't stand out from the hundreds of other emails in the inbox, it will be trashed immediately. All the time you put into creating an effective email to sell magic tricks or services will be wasted.
You are not going to write a great subject line on the first attempt.  Aim to a pile of subject lines knowing that all but the final one, will probably suck.
Here are some tried and true subject line tactics to increase email engagement among your magic audience:
Curiosity. Evoke enough curiosity to compel the reader to keep reading. eg. "The most riveting magic effect you've ever seen." "The best kept secret in our magic store." "Don't open this unless you like to save money."

If you can grab the attention of cows, you are on to something. Keep writing!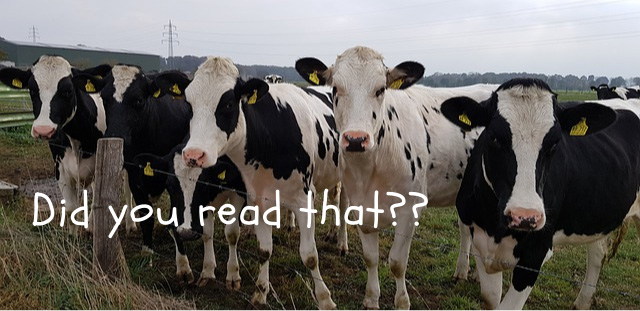 FOMO. Fear of missing out is a powerful motivator. Studies have shown that people respond more strongly to avoid loss than when they expect to gain something. The more valuable the offer is the more anxious the recipient will feel about missing out. eg. "Last chance to grab this hot seller." "Free shipping to the first 100 customers today."
Funny or punny. Humor will make your email subject line stand out but be careful not to offend. eg. "These tricks are disappearing fast." "A magic secret so secret I couldn't even share it with my dog."
Create engaging preview text
Preview text (or pre-header text) displays beneath the subject line and gives readers a peak at the content of your email.
Since more than 50% of all emails are read on a mobile device, limit the preview text to 5 or 6 persuasive words. Not all email readers display preview text, but it doesn't hurt to add so make it persuasive.
Don't capitalize every word; use regular sentence case just like you'ld when you write an email to a friend. 

Personalize the email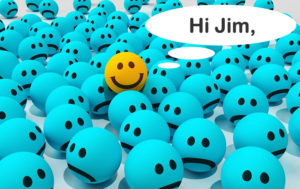 You've probably seen those <merge> tags when creating an email. Put them to use.
People are more likely to notice and read email addressed to them. Include the subscriber's name in the body of the email as well.
Everybody loves to see their name and when the body of the email is personalized it makes the reader feel special and valued.
For example, before the Call To Action (button) add a personalized message: "Here's what's next for you Jim. You can pre-order the Amazing Trick and receive it by x date or you can hope it isn't sold out when it becomes available."
Format your email to feel friendly and drive focus.

Don't use all caps or too many exclamation marks.
NOBODY LIKES TO BE YELLED AT!!
And using all caps is more difficult to read. Instead use formatting prudently to create emphasis.
Befriend white space. Keep your paragraphs and sentences short.
Big blobs of text are difficult to read on a screen. White space allows the eye to rest and directs focus to your words.
Put the main benefit in the first or second sentence
If the benefits aren't obvious why would anybody take time to read your email? We are all busy and most people will skim your email for what interests them.  (Which is where the white space really helps draw focus to important parts.)
Lead with the most important benefits to the reader right at the start so when he previews or opens the email he'll have a reason to continue reading.
Make it easy for the reader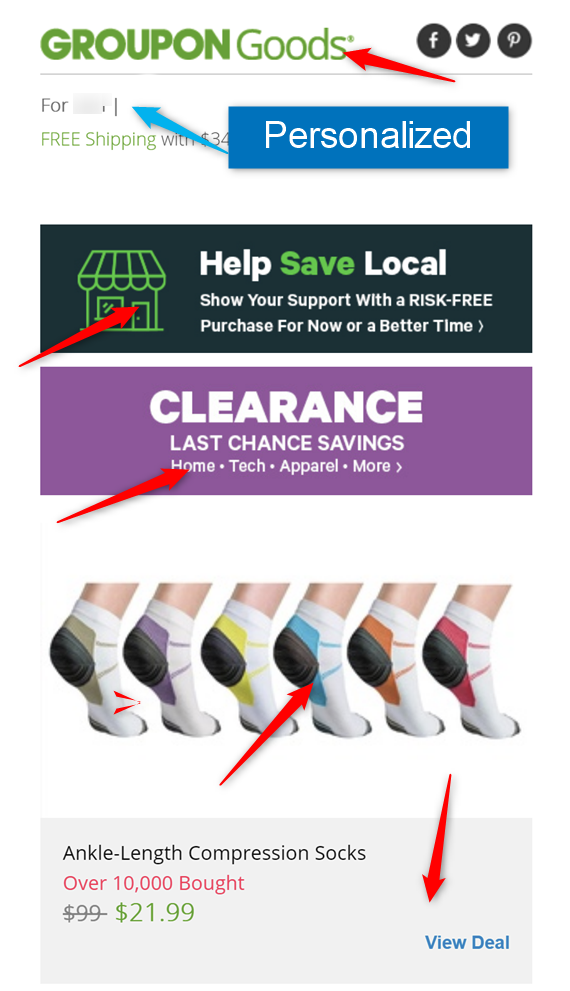 Let's briefly take a look at how Amazon has excelled at making every step easy.
Amazon increased revenue by over over two billion annually when it  introduced one-click purchasing.
Take a minute to grasp that.  Simply by making the purchase process as easy as possible Amazon was able to increase revenue by 5% annually which translates into billions of dollars.  (One-Click purchasing was so revolutionary it was patented.)
How can you make the purchase process easier for your audience?
Every image in the newsletter should link to the correct destination on your website.
Buttons and links need to be obvious and large enough to easily click on when using a smart phone.
If you're promoting a magic effect be sure to link the image and the call-to-action button to the product page.
Don't use bitly or other link shortening tools because links that don't have a clear destination are more likely to be flagged as Spam.
Checkout the example on the right. This was a Groupon email I received that correctly adds links.
The logo links back to Groupon.  The email is personalized with a name.  All of the red arrows indicate that if you click on an image or linked-text you will be directed to the page where you can purchase.
Be sure to double check all links before sending out your email.
Talk to your customer and be conversational

Make the reader feel special. Write in the second person to focus on the reader and address his needs and interests. Writing in the second person means using the pronouns "you," "your," and "yours."
For example, "This effect will make your audience gasp." "You won't be able to keep this hot-seller in stock."
Read your email out loud before you send it and make sure it sounds smooth, not awkward. Don't write like a robot.  Instead write as if you are having a conversation with the reader right there in front of you.
Use contractions; instead of saying "I will make your audience laugh. They will shout for an encore" use a more natural tone: "I'll make your audience laugh and they'll shout for an encore."
Create urgency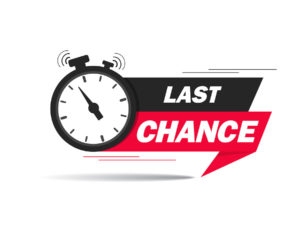 Nothing sells like a limited time deal or limited inventory. Knowing there is a definite end to the offer forces your reader to act now.
How many times have you been shopping on Amazon and after you see the words "only 3 left" you swoop in and buy the product?
A ticking clock, a count-down timer, an expiration date, limited supply and low stock all create a sense of urgency.
Limit choices
Many marketers send emails with six or more different offers or choices. Too many choices = no choice at all. If the reader feels overwhelmed then he is not going to click through to your website and a potential sale has been lost.

A confused mind always says No.
Be clear and specific. Think about what you want the reader to do and add a bright, bold, can't-be-missed "Buy Now" button or "Grab the Deal" button that links directly to the website page where the reader can take action.
Keep your goal clear and uncluttered. This is a key point that so many email promotions miss. 
Begin with the end in mind
Your email should have one clear goal. If the subscriber only does one thing as a result of reading your email, what is that? Is it to purchase magic, sign up for a class or inquire about hiring you to perform?
Create content that drives the reader to the goal and then tell the reader what to do. Seriously, you need to give instructions.
Read the Essential Email Checklist to learn more money generating tips.

You are already taking the time to create an email; use these tactics to create an email that performs like MAGIC.
Like what you are reading?
Our decades of experience will save you time and money.  Avoid costly mistakes by tapping into our knowledge. 
Do it once and do it right.